Legg-Calvé-Perthes
Avascular necrosis of the femoral head
Leg-Calvé-Perthes is a condition of the hip that affects children aged 3 to 11 years. The disease is characterised by pain in the groin, knee or hip and a disrupted gait (limping). It is four times more common in boys than in girls.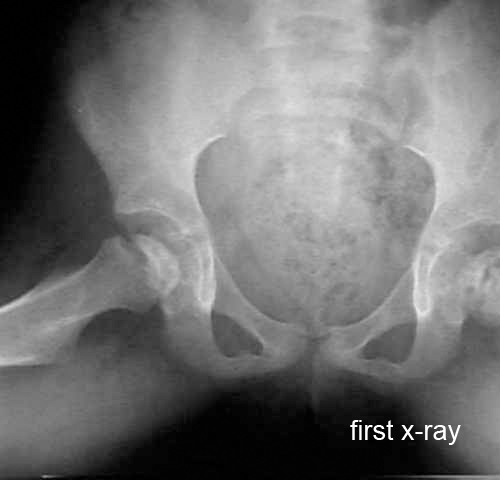 The condition is named after the three doctors who discovered the condition almost simultaneously in 1910. The clinical presentation is very similar to the less severe condition transient synovitis.
Description of the condition
The bone of the head of the femur dies as a result of a temporary disruption in the supply of blood to the upper part of the thigh. However, the joint cartilage that covers the head remains alive, as this is not supplied directly from the bone, but instead receives nutrients from the synovial fluid (joint fluid).

In contrast to the situation in adults, the dead bone is replaced by new bone thanks to a natural repair process. This entire process can last 1 - 5 years. The adjacent images show the development of the hip in a child with Calvé-Legg-Perthes Disease.
Cause and origin
The cause of the disruption in circulation is unknown.
Signs & symptoms
Pain in the hip region or knee.

Limping (at this age limping is rarely a psychosocial symptom).

Sometimes the child does not want to stand or walk.

There is a limitation of movement with sideways elevation of the thigh and with rotations.

Sometimes the affected leg appears shorter than the other leg.
Diagnosis
The diagnosis can be made using ultrasound, X-rays, an MRI or bone scan.
Treatment
The treatment consists of alleviating the pain and increasing the mobility of the hip joint. The child's physical activities must be limited temporarily. This allows the bone to recover. In consultation with the specialist, one can implement paediatric physiotherapy or one of the following treatment methods:

Traction; the muscles and the joint are stretched by means of weights.

Spreading brace; the head of the femur grows better when the hip is placed in a certain position.

Surgery; this allows the bone to be positioned correctly.

Staheli osteotomy; a hip socket that is too short or shallow is made larger by placing a bone graft just above the hip joint.

Devices; a wheelchair or crutches can alleviate the burden on the hip.

Walking with braces; the aim is to keep the hip in the correct position.
Exercises

You can check your symptoms using the online physiotherapy check or make an appointment with a physiotherapy practice in your area.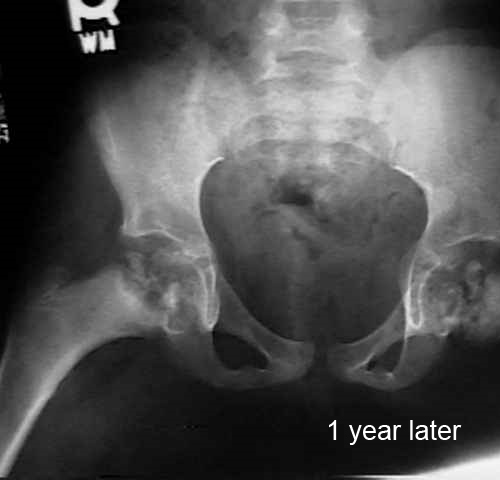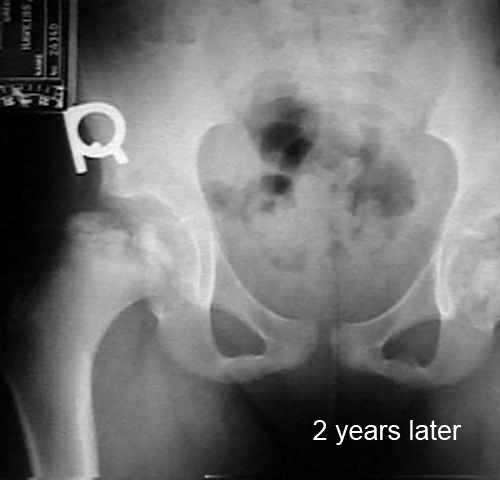 References
Verhaar, J.A.N. & Linden, A.J. van der (2005). Orthopedie. Houten: Bohn Stafleu van Loghum.