Nonspecific lower back pain
Nonspecific lower back problems
Nonspecific lower back pain is the most common form of lower back pain. The symptoms, development and location of the symptoms can differ significantly per patient.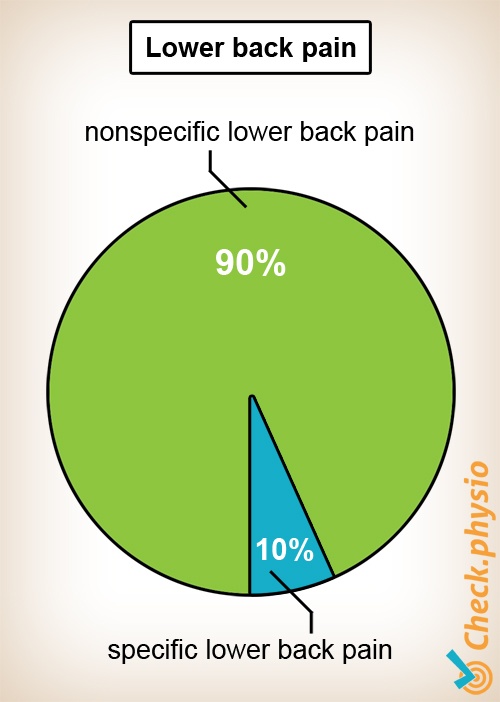 Lower back pain is usually categorised into specific lower back pain and nonspecific lower back pain. In the case of nonspecific lower back pain, the patient develops symptoms for which no specific structural cause can be found. If we are able to identify a structure that is responsible for the back pain, this is referred to as specific lower back pain. Sometimes this can point to more severe problems in the back. The most well known example of specific lower back pain is the herniated disc.
Description of the condition
Nonspecific lower back pain affects by far the largest group of patients with lower back pain. Approximately 90% of all people with lower back pain have non-specific back pain. The duration of a period of lower back pain is categorised as follows: acute (0 - 6 weeks), sub-acute (7 - 12 weeks) and chronic (longer than 3 months). If the patient experiences more than two periods of lower back pain in one year, we refer to this as recurrent back pain.

The diagnosis of 'nonspecific lower back pain' can sometimes be frustrating, because the patient wants to know what the underlying cause of the back problems is. Despite the fact that the symptoms cannot be attributed to one specific structure in the body, the symptoms are taken very seriously by both physiotherapists and specialists.
Cause and origin
We suspect that ageing, wear-and-tear or injury of an intervertebral disc plays an important role in the development of nonspecific lower back pain. Other possible causes include injury to the ligaments, muscles or (facet) joints of the spinal column. In general, multiple structures will be jointly responsible for the symptoms that are being experienced.
Signs & symptoms
Pain in the lower back is the primary symptom. This pain can radiate to the buttock region, or the thigh. The pain can become worse with certain positions or movements. Activities that can provoke the pain include lifting or working in an incorrect position. Stiffness when starting to move or in the morning can also occur.

The patient is generally in good overall health and there are no general disease processes such as fever, nausea or weight loss. The pain can be present continuously or occur in episodes. The first episode generally occurs between the ages of 20 and 50 years.

Symptoms that can point to specific lower back pain include: numbness between the legs, uncontrolled loss of urine (or inability to urinate), a sudden loss of muscle strength, an accident or fall, constant pain that continues to increase despite rest or movement, a history of cancer, low body weight or unexplained weight loss, prolonged use of anti-inflammatories, drug use, immune suppression, HIV, illness or fever, changes in sensation or pain in the leg below the knee or signs of infection.
Diagnosis
The diagnosis is made by ruling out the typical presentations of specific lower back pain. The patient's history, the symptoms experienced and the physiotherapeutic examination will in many cases be enough to make the diagnosis. Extensive imaging examinations, such as X-rays, CT scan or MRI can aid in the evaluation of the symptoms. However, in many cases this is not necessary and any abnormalities that are detected provide very little information about the back pain that the patient is experiencing.
Treatment
Despite the fact that no specific structure in the body can be pinpointed as the cause, there are often still treatment options.

In the case of acute lower back pain, the advice is to keep moving (gentle exercise), for example by taking regular walks and performing back exercises. There is strong evidence that bedrest has no positive effects on recovery. Sometimes anti-inflammatories or muscle relaxants will be prescribed. Normally, the symptoms will disappear in 80 - 90% of people with low back pain within four to six weeks.

If the symptoms (and the associated limitations) do not decrease within three weeks, this is an abnormal course of events. It is advisable to visit a physiotherapist for advice. In the chronic phase, exercise therapy yields a better result than no treatment.
Exercises
Follow the exercise programme here with special exercises for non-specific lower back pain.

You can check your symptoms using the online physiotherapy check or make an appointment with a physiotherapy practice in your area.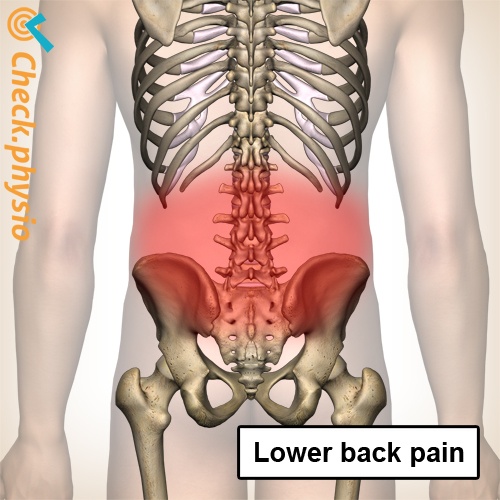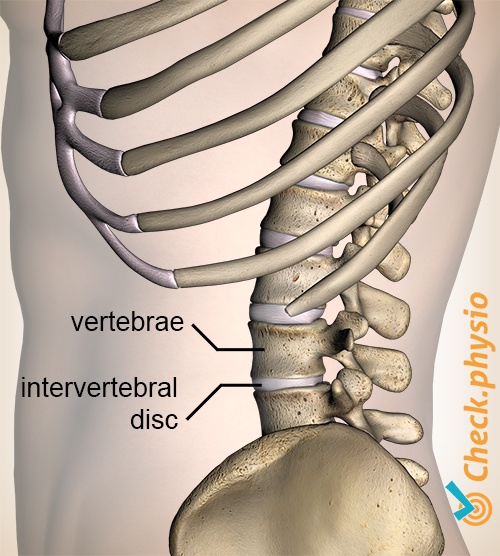 References
Bekkering, G.E., Hendriks, H.J.M., Koes, B.W., Oostendorp, R.A.B., Ostelo, R.W.J.G., Thomassen, J. & Tulder, M.W. van (2005). KNGF-richtlijn lage-rugpijn. Nederlands Tijdschrift voor Fysiotherapie. Nummer 1, 2005.
Faber, E., Custers, J.W.H., Ederen, C. van, Bout, J., Cin-jee, G., Kolnaar, B.G.M., Schotsman, R., Spinnewijn, W.E.M., Staal, J.B., Ten Cate, A. & Wildervanck-Dekker, C.M.J. (2008). Landelijke eerstelijns samenwerkings afspraak aspecifieke lagerugpijn. Huisarts Wet. 2008;51(9):S5-S9.
Mens, J.M.A., Chavannes, A.W., Koes, B.W., Lubbers, W.J., Ostelo, R.W.J.G., Spinnewijn, W.E.M. & Kolnaar, B.G.M. (2005). NHG-standaard. Lumbosacraal radiculair syndroom. Eerste herziening. Huisarts Wet. 2005;48(4):171-8.
Tulder, M.W. & Koes, B.W. (2004). Evidence-based handelen bij lage rugpijn. Epidemiologie, preventie, diagnostiek, behandeling en richtlijnen. Houten: Bohn Stafleu van Loghum.