SI joint pain
Symptoms of the sacroiliac joint
The sacroiliac joints (SI joints) are located to the left and right of the midline in the lower back. Together, they form the connection between the sacrum and the two pelvic halves. Problems with the SI joint result in pain in the buttock region, which can radiate to the leg.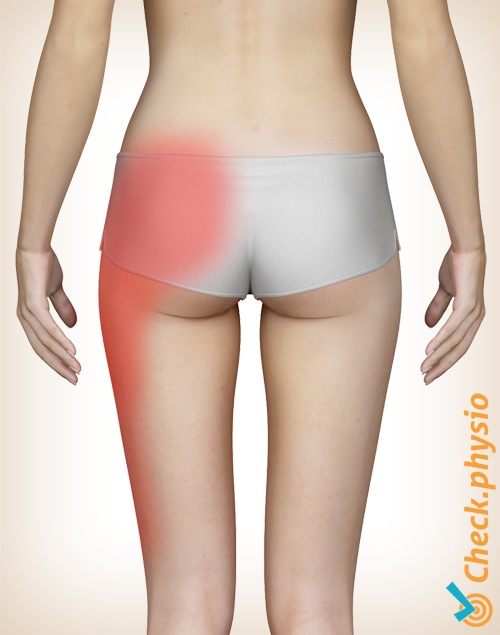 The connection between the sacrum and a pelvic half (ilium) is very rigid. This is the reason why there was discussion for a long period as to whether this could actually be called a joint. Despite the limited mobility, it was demonstrated that some movement takes place between the various bone segments.
Description of the condition
It is thought that SI problems are caused by hypo mobility (stiffness), hyper mobility (increased mobility) and/or damage to the joint ligaments. The symptoms can also be summarised under the name 'SI-syndrome'.
Cause and origin
A fall on the buttock(s) is a common cause of SI pain. The symptoms can also be caused by a motorcycle accident or when somebody missteps on the stairs. Other factors that can result in SI pain are infection, malignancy, pregnancy and repetitive overloading movements in the SI joint (micro trauma). In 35 % of cases there is no obvious cause and the symptoms occur spontaneously.
Signs & symptoms
Pain in the lower back and the buttock region, usually slightly off-centre.

The pain can radiate over the thigh, in some cases even down to the foot.

Symptoms can be present when standing, walking, sitting, bending and making twisting movements.

Direct pressure on the ligaments of the SI joint can provoke the symptoms.
Diagnosis
Various tests have been developed to detect SI pain. However, it remains tricky. The patient's story and the physical examination combined can give a fairly accurate idea of the symptoms.

In exceptional cases, the diagnosis can be confirmed by an injection in the SI joint. If this temporarily reduces the pain, this could mean that the SI joint was the cause of the symptoms.
Treatment
Hypo mobility of the SI joint can be alleviated by physiotherapy and manual therapy. Usually the joint is loosened. Mobilising exercises can ensure that the stiffness is kept at bay.
Exercises
An exercise programme with mobilising exercises for the SI joint can be followed here, or make an appointment with a physiotherapist near you.

You can check your symptoms using the online physiotherapy check or make an appointment with a physiotherapy practice in your area.

References
Cleland, J.A. & Koppenhaver, S. (2011). Netter's orthopaedic clinical examination: an evidence-based approach. 2nd ed. Philadelphia: Saunders Elsevier.
El, A. van der (2007). Manuele diagnostiek. Wervelkolom. Rotterdam: Uitgeverij Manthel.
Muhlner, S.B. (2009). Radiofrequency neurotomy for the treatment of sacroiliac joint syndrome. Review. Curr Rev Musculoskelet Med. 2009 March; 2(1):10-14.
Simopoulos, T.T., Manchikanti, L., Singh, V., Gupta, S., Hameed, H., Diwan, S. & Cohen, S.P. (2012). A systematic evaluation of prevalence and diagnostic accuracy of sacroiliac joint interventions. Pain Physician 2012; 15:E305-E344.